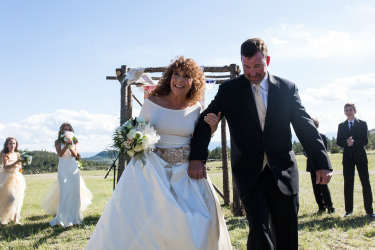 We couldn't think of a more fabulous way to kick off Wedding Season 2016 than with this gorgeous celebration of Starr + Matt.
Held at a private ranch outside of Helena, their nuptials were an incredible combination of Montana charm, lush garden flowers and handpicked Americana antiques that came together to create a setting that left all the guests feeling wow-ed, and yet right at home.
Almost a full year previously, Starr contacted us (not yet The Flower Hat) about her Memorial Day wedding. She showed up to the studio toting a massive binder overflowing with wedding plans and ideas and we knew right away this was going to be a fun bride! She pulled out one specific page out of a magazine that she had been holding on to for exactly that moment and, voila! The entire floral theme of her wedding was born.
Starr wanted a vintage English garden feel for her flowers, with lots of rich blue, purple and pink tones. In staying with the garden theme, we went heavy on the flowers using garden roses, dutch hydrangeas, lilacs and some beautiful pink peonies with a little less foliage - and the results were oh, so amazing! Equally gorgeous were the bridal bouquets: simple, elegant and timeless white arrangements.
Not only did Starr know exactly what flowers and colors she wanted, she even handpicked every single container for every single table from antique shops around the country. Each guest table was adorned with individual pieces, from a birdcage to a typewriter to glass, antique pewter and vintage china, each with a special connection to the bride and groom.
After a mock set-up of each table design and a few tweaks to the floral order, we were able to collaborate with Starr to create one of the most unique and personalized wedding designs to date. We are so proud of the finished product! It's pretty much impossible not to feel the time, effort and love that the couple poured into making their day a special experience for themselves and their guests. We are so honored to have been trusted to help Starr + Matt's dreams become a reality!
xoxo
P.S. If you are loving the photos from Starr + Matt's wedding venue, it's now available for future weddings! Click
here
for more information!