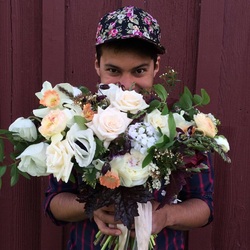 Your big day has finally come and gone. All the planning, all the time, all the money and energy you spent getting things ready have paid off and it's time to enjoy married life! But as you're walking out of your wedding venue you look around at all your gorgeous flower and wonder what to do with all that beauty - just let them die?!
The unfortunate truth is that your florist provides you with flowers at their peak bloom, so they will begin to look really sad within a day or two. That being said, there are a few options for ways to spread a little extra joy with your floral arrangements.
Send Them Home With Guests
Often times, guests are just as sad to see flowers go to the trash can as you are. Our dear friend,
Patricia Clark
suggests that if you'd like to give guests the option to take centerpieces or bouquets home after your wedding, stash some ziploc bags under the table cloths at each table. At the end of the night, have your DJ announce that guests are welcome to take arrangements home and where they can find the ziplocs. The flowers will only last them another day or two, but they will be able relive the joy and memories from your wedding while they take the flowers home - plus, less flowers equal a little less clean up for your wedding planner or your venue.
Donate Them
Even though your flowers may not have much life left in them, there may still be enough to bring some light to someone else's day. If you know of a nearby hospital or senior living home, they are great places to take your remaining flowers. You'll feel better about them going to a good cause and hopefully they can bring a smile to a few other faces. If you're going this route, plan ahead of time where you'd like to take the flowers and contact the facility to make sure it's ok and arrange a drop off time. Designate someone from your wedding party or a friend or family member to be in charge of collecting the arrangements after the wedding and keeping them in water so they can stay alive as long as possible after drop off.
Create Your Own Keepsake
If you loved your bouquet and want to keep it as a memento of your big day, consider drying your flowers after your wedding is over. There are many tutorials out there for how to preserve your bouquet,
this one
from The Knot offers a quick overview of a few different options. If your bouquet consists of mostly hearty flowers that won't lose their petals easily, you can always opt to hang your bouquet upside down in a cool, dry place for at least a week to dry them yourself.
Reduce, Reuse, Recycle
If none of the above ideas sound appealing to you and you're planning to just toss your flowers at the end of the night, consider asking your venue if they have a compost area that the flowers could be tossed into. This way, you know your flowers are being used to create compost that will eventually be used to help something beautiful (or nutritional) grow again. It can give you just a little peace of mind that your special day is helping to better the environment instead of ending up in the trash.
No matter what you decide to do with your flowers after your wedding day, don't let yourself feel sad about losing your flowers at the end of the night. They served their purpose and their beauty will live on in your photos and memories of the day. How did you use your flowers after your wedding day? Share with us in the comments!
xoxo